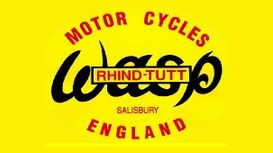 Wasp Motorcycles began its story in the early 1960's. During the day, Rob (Charles)Rhind-tutt was serving his apprenticeship making aircraft instruments at Boscombe Down in Wiltshire. In his spare time, Rob raced a sidecar outfit in the Southern Centre grasstrack club with his passenger Philip Coles. At that time the bikes raced were mainly modified road machines. Around 1962, Rob made his own frame and sidecar, specifically designed for grasstrack racing. And so it began.
50 years on and around 5000 frames made, including solo's, sidecar's and quads across the range of motorcycle sport. There have been a total of 41 models of Wasp machines for Grasstrack, motorcross, speedway and roadrace, plus numerous bespoke and replica frames made. Wasp continue making frames to order, using the same methods, the same jigs making eligibility for period racing class easy.
---
Reviews and Ratings
Brilliant service from Albert making a bespoke side stand for 1936 AJS Rigid trials. Delighted with the job. Thanks again.