Our new MT-07 fleet includes full height and lowered bikes and 46bhp restricted bikes for the A2. The lowered bikes are especially suitable for ladies as they are light and the lowered kit gives you a more stable and comfortable experience - so come on ladies, no excuses now! Wigan Rider Training is an independent motorcycle training school located opposite to Wigan Yamaha.
We have invested heavily in brand new equipment and motorbikes to make your introduction to riding as pleasurable as possible. A life time of experience is on offer to help you take your rider skills to the highest level.
Services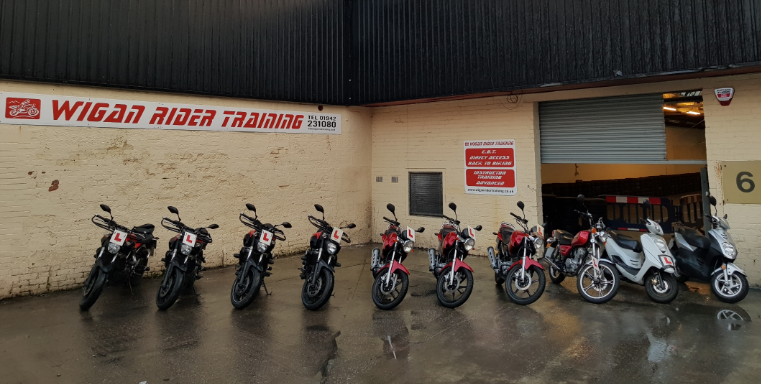 DAS stands for Direct Access Scheme, this is the course to take if you want to ride an unrestricted capacity motorcycle.
To take DAS Training ..
You will need to be 24 years or older.
Step 1 – already have or complete a CBT Certificate.
Step 2 – pass the Theory and Hazard Perception Test. You do not need a theory test certificate to train but you cannot take or book a test without one.
Step 3 – take the DSA Motorcycle Test Module 1 and Module 2 courses to pass the motorcycle test.
DVSA Module 1 is a series of off road low and high speed control manouvres.
DVSA Module 2 is a practical road ride and test of different traffic situations lasting around 40 minutes.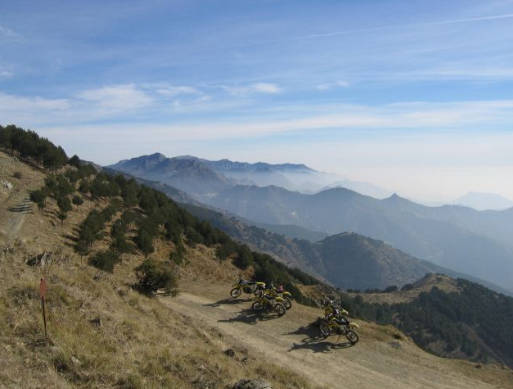 A2 Licence – The route to a full licence for age 19 and over.
The A2 licence is available to all aged 19 and over but you will be restricted to a machine of 46bhp. If you are 24 or older the Direct Access course may well be your best option.
Sick of paying £80 a tank for fuel ?? We can't help you with that but we can help you make your fuel go a lot further – invest some money in taking an A2 restricted licence.
You will have a 46bhp restriction, but 46bhp is plenty for running around town and commuting to and from work.
As you can see from the picture of one of my excursions 46bhp doesn't mean boring either – plenty of scope to tour and have fun at the weekend.
Make no mistake, you can travel big distances on smaller bikes. They have advantages of weight, economy and simplicity over some of the latest whizz bang monsters.
You can make a great adventure bike out of a smaller capacity motorbike.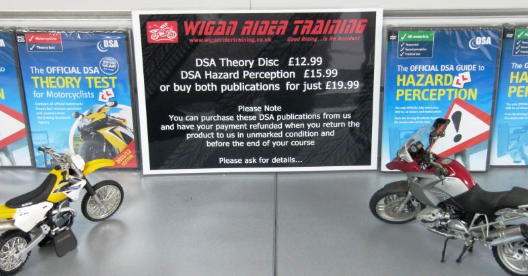 Book your Theory test as soon as you know you want to take your practical tests. There can be a 2 – 3 week wait for a theory date although you may get one sooner if you are willing to travel to surrounding test centres.
Below are DVSA videos and information on the format of the Theory Test – take a look – we think you'll find it helpful.
We have a stock of the official DVSA Hazard Perception Test CDs and Theory Test Revision packages.
We can supply you with these on booking your course with us and we will reimburse the cost of the pack if you return it to us in unmarked condition before the completion of your course.
Reviews and Ratings
Thanks to Andy, Kerrie and Richard. I did the 4 day DAS (Direct Access) course and passed my MOD 1 and MOD 2 first time, which was all down to the great tuition and patience of the instructors. The new Indoor area is great, it makes all the difference learning in the dry and warmth for the first few times on the bike. Anyone wanting to do any bike training, look no further!!
These guys are 10* not 5*!! Thank you so much to Andy, Richard and Steve for the fantastic training I received whilst completing a two and half day DAS course. I passed my Mod 1 and 2 first time all thanks to these guys. Their training and facilities are second to none! Would highly recommend to all whether its a CBT course or DAS course you want to do. I wouldn't go anywhere else. Thank you again.
Did my CBT over the weekend. Never been on the road before. The speed the guys take you threw and the way they introduce things to you is great. I picked it up so fast and was confident enough to get straight out. When out instructions where clear all riders new where to go and what to do no mixed signals or communications. I would highly recommend for new riders I'm glad I went with Wigan rider and will continue to do so for my further licences in the future.